384012-summer-beautiful-grass-tulips-garden-nature-lovely-pretty-water
office-housekeeping-checklist
Facilities Management Services
People everywhere need to know they are visiting and working in places that are clean, safe and hygienic. It's not enough that it's spotless. Every day, our custom cleaning services keep people healthy and safe, nurture wellbeing and shape strong and reputable workplaces – offering smart technology, best-in-class products and expertly trained people to give you peace of mind.
We have multiple teams of experienced and conscientious workers who carry out the cleaning services under the direction of a supervisor placed permanently at each respective project site. Our services cover every aspect of cleaning, periodic cleaning, long term contractual & non-contractual cleaning and point to point rubbish collection. We set high standards of supervision and quality control while engaging client feedback to establish a consistent output of the services provided.
Sanitization & Disinfection Services
Sanitization & Disinfection Services
Our microbial control & sanitization service serves as a prevention and risk management measure for your home and office
Prevents the growth of bacteria and virus
Keeps the microorganism population at a safe level
Kills the Covid-19 virus for places with confirmed cases
Kills 99.999% bacteria & viruses
Follows Malaysia's KKM and CDC's standard of disinfection
Active Ingredient is EPA & MOH approved for killing Covid-19
Incorporates a max hygiene policy to minimize cross contamination
Non-toxic & non-corrosive for use on all surfaces
Professional Office & Commercial Location Disinfection
Sanitization & Disinfection fogging for Nurseries, Schools, Colleges, Universities
Industrial Sanitization & Disinfection
Vessel Sanitization & Disinfection
General Cleaning
Polishing
Scrubbing
Buffing
Carpet Cleaning
High Rise & External Cleaning
Hygiene
General Waste Disposal
Building Management Services
Building Management Services
Handyman & Technician
Evaluate, Repair & Maintain Plumbing, Electrical, (Heating, Ventilating, and Air Conditioning) HVAC Systems in the Building 
Inspect and Evaluate all Mechanical Aspects of the Building 
Maintain Fire, Carbon Monoxide, Smoke & Other Safety Systems
Electrical Testing 
Renovation & Repairing Works
Security Services, CCTV & Access Card
General Office Support
waste Management Services
Waste Management Services
Waste management involves collection, transportation, process or dispose, managing and monitoring of waste materials which includes

Solid Waste
Liquid Waste
Gaseous Waste
Radioactive Waste
Garden planning  & Landscape Design
Patios & Walkways
Tree & Pruning Services
Lawn Care & Maintenance
Remove dead, damaged, or unwanted trees
Proactive pest control is essential for facilities and property management because if a pest problem is left unchecked in one unit, the infestation can easily spread throughout the building carrying potential disease and destruction. Once pests have gained access to a building, they need very little food and water to thrive and multiply.  A pest problem can negatively impact your occupancy rate and putting your facility's reputation at stake. Besides that, pest can bring a wide range of threats to construction employees and public health. Pest like rats contaminate any surface with their urine and filthy hair, leading to diseases such as leptospirosis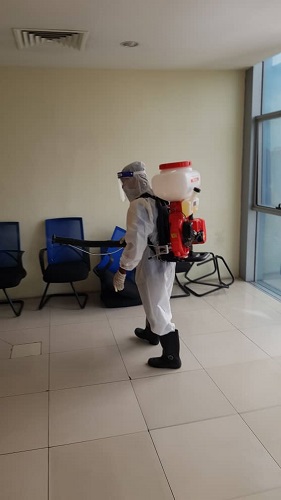 Facility Management Blogs
Disinfection practices are important to reduce the potential for COVID-19 virus contamination in non-healthcare settings.
Facility management (FM) is a profession that encompasses multiple disciplines to ensure functionality, comfort & safety