e6fa80c88368cc9ed97783baabe56dc3
OFFSHORE & MARINE SERVICES
General provision & groceries
Bonded Stores
Supply Provision, Deck & Engine Consumables
Supply and rental of machinery, tools, & equipment
Supply Fresh water
Vessel on-board deliveries and Cabin Stores
Supply of spare parts for Marine Equipment & Machineries
Represent the owner of the ship and carry out all essential duties and obligations required by the Ship Crew
Complete ocean freight management incl. full vessel chartering & operation
Bunker Call Agency
Dry Docking
Full Agency – Cargo Operations
Protective agency for shipowners and charterers
Husbandry Services
Lay-ups
Canal Transit Services
Agency by Air
Port Agency Services – Cruise Ships
Machinery, Tools, & Equipment Maintenance
Machinery, Tools, & Equipment Maintenance
Technical management or full ship management to maintain and operate vessels, as commissioned by a ship owner or charter
Repairing & supply marine sea water/fresh water pump units
Repairing of marine Heating, Ventilation, and Air Conditioning (HVAC) equipment
Sea fastening of cargo and equipment
Life Saving Appliances (LSA) and Fire Fighting Appliances (FFA) Supply, Maintenance and Certification
Painting & blasting
Source, recruit, select, deploy, schedule, train / upgrade programs
Crew Management
Crew Supply and Exchange.
Pick and drop signers
transporting crew members.
Management of seafarers engaged on vessels under crew management contracts.
Vessel Cleaning & Sanitization
Vessel Cleaning & Sanitization
Tank cleaning services
Underwater hull cleaning, propeller polishing and inspection.
Fumigation & pest control services
Pressure vessel cleaning services
Container cleaning
Piping cleaning
Vessel disinfection & sanitization
Payroll services for crews
Human Resources advisory
Cargo insurance for warehousing & transportation
Company Secretary, Accounting, Tax services
Slops collection
Sludge collection
Waste oil collection
Garbage collection
Slops removal
Sludge removal
Ship waste collection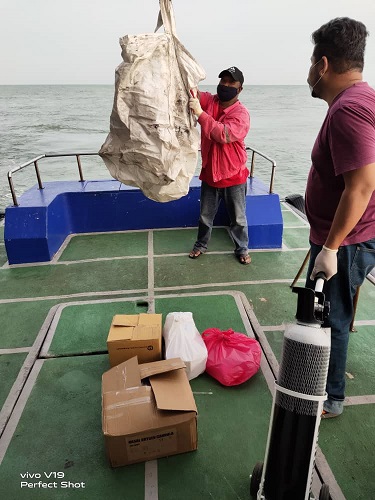 Medevac or medical evacuation is a method of recusing a person at sea in times of emergencies. On ships, an emergency can occur at any time when at sea.
A shipping agent who with a local expert acts as a representative of the owner of the ship and carries out all essential duties and obligations required by the crew of the ship.